Yamaha motorcycle
Key programming Services
---
Yamaha motorcycle Key Cloning
We specialise in programming and cloning Yamaha motorbike keys of all models and years. We can cut, extract and duplicate lost or stolen keys including programming new transponder chips.
Our Yamaha motorbike key cloning service is available either by post, or in can bring over the relevant parts. Contact us to determine what part you need to bring over, depending on year or model. In some year and model we would require the bike to be recovered to us.
---
Lost Yamaha key programming
Lost your Yamaha motercycle keys and need to make programmed keys? We can recut the keys from your existing barrel and programs immobiliser chips Alternately we can change the whole lock set if you think someone will have access to your Yamaha bike. We can them re-program your ECU to work with your new lockset.
This is available as a mobile service or by recovery to our North London location.
If you mistakenly broke your Yamaha key, we can extract the key and recut it. We can move your chip from the broken key to the new key and it will work the same with your immobiliser system. We can duplicate and program additional keys if needed.
---
Parts needed to programme Yamaha keys
Contact us to know what parts are needed to programme your keys as each year and model may require different parts.
What part we need  to programme your
 Yamaha keys
01Yamaha motorcycles are fitted with CDI box connected through motorcycle wiring loom to antena where its receiving signal from your key where is chip in which are stored the key data. In order to Programme new keys we would have to have your antenna MCU, ECU / CDI box. You can either bring it send it or ask for mobile technician to come over and do all the job on site.
02 In order to to proceed please provide us with your Yamah motorbike details
How do I know if my Yamaha motorbike has an immobiliser system?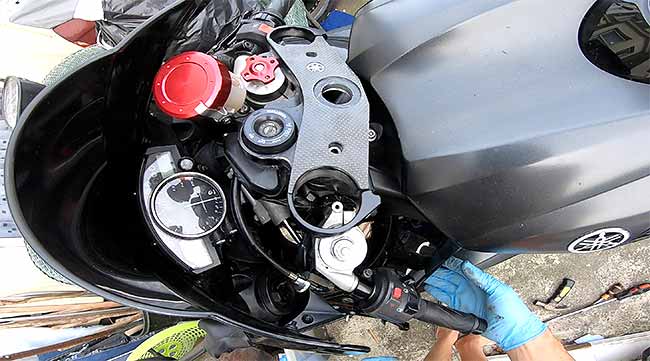 How to know?You can know by either looking at your Motorbike ocuments. You can check if you have antenna around your ignition or send us pictures and mtorbike details and we will check in our files.
Contact us! You can contact us by filling up the form with your bike information or you can call Yamaha dealer give them your motorbike details registration number and they will be able to assist you if your bike has an immobiliser.
Parts Only?If you Looking for replacement MCU Antenna, ECU / CDI parts or ignition only due to damage etc. you can search for your parts on our website and you may find what you are looking for. If not you can contact us .
What Years we cover?Programming and key coding to all Yamaha motorbikes years and models.
---
---