Suzuki Motorcycle Key Programming & Cloning.
---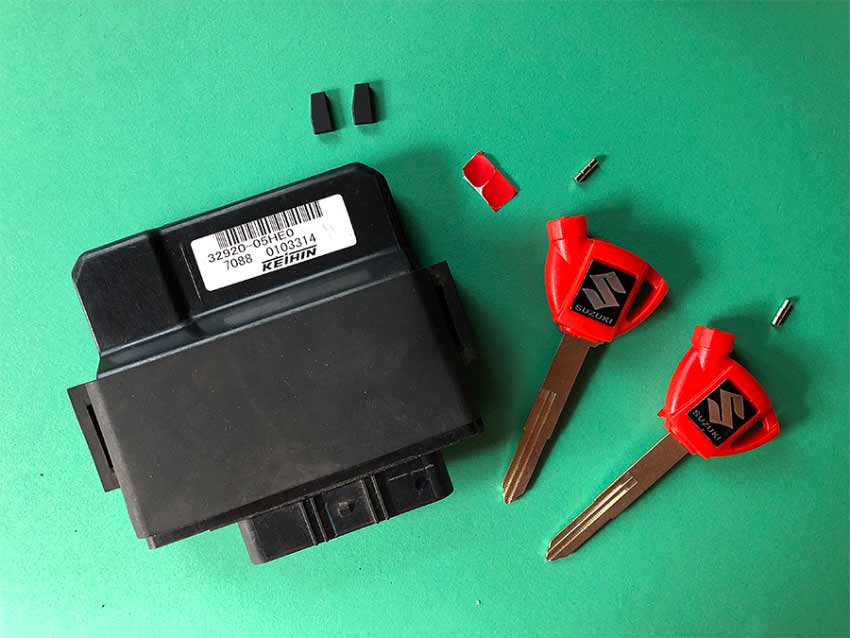 Suzuki motorcycle key coding
We specialize in coding keys and replicating Suzuki motorcycle keys. We can make new encoded keys or just the transmitter chip for your existing key. We offer a wide range of coded motorcycle keys and immobilizer solutions. Our service is available by mail, London or via mobile service to your location. We can clone and cut for all the existing scooter, motorcycle and motorbike keys on the market. You can contact us if you need more specific information.
---
Suzuki motorbike key programming
Lost your Suzuki motorbike keys and wish to make a new set of programmed keys? We offer 3 key programming options.
1. Call us to come to your location to make you new keys and programme new transponder chips. 2. Recover your bike to us. 3. Remove the CDI unit or throttle body and bring it/ post it to us so we can programme new chips.
Did you break your key in the ignition lock and still have the top with the transponder chip? We can extract the key from the ignition lock and replace the key. The transponder chip can then be transferred to the new key. We do not need to reprogram your ECU operator. We can clone and cut new encrypted keys for you.
---
What we need to programme your Suzuki motorcycle Keys
For us to program your new encoded keys, we need your ECU to store your codes. Then we can create a new transponder chip to work with your existing immobilizer system.
What part do we need to program your  Suzuki Motorcycle Keys
Suzuki ImobeliserSome of the Suzukis bikes and cooters are equipt with SAIS Suzuki Advanced Immobilizer System which keep stored code details to your chip in the key. To programme new transponders chips we would have to get your ECU unit and either programme new chips or reset it and reprogramming it.
What bikes we coverWe cover all years and models of Suzuki motorcycles, Jetski and quadbikes on the market till the present year! If you require any details toward your vehicle, please fill-up the contact form below.
Denso ECU UnitsWe programme all Denso CDI Units
Mitsubishi ECU UnitsWe cover all Mitshubishi CDI Boxes
How can I tell if my Suzuki motorcycle has an immobilizer system?
Blinking Red LightYou can find out if your Suzuki motorbike has an immobiliser system fitted by looking at your dashboard. Under the dial should be a red blinking light with small key painted above or bellow.
Contact us!If you are unsure whether you have the immobiliser or not, send us a photo of your dashboard and bike information: year, bike model. We will then advise you if you have an immobiliser system and if you need to programmed keys.


ECU / CDI UnitIf you know where to locate your ECU and know how to remove it, you can bring it or post the part to us and we will re-programme it within 5-6 hours.
Search our siteAlternatively, you can search our website, and see if you can find the same part as you have already programmed.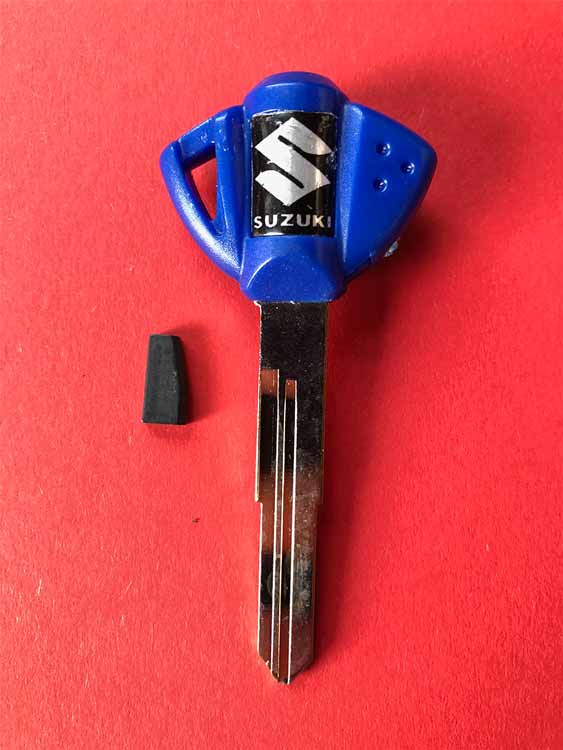 Suzuki Key DuplicationSome Suzuki motorcycles and scooters are fitted with an immobiliser system. To start up your bike, your bike keys need to be programmed to bypass the immobiliser system. We can clone and programme all Suzuki keys without having the bike itself on-site, however its always good to test it with your motorbike when to job is completed to make sure it works fine.


---
---